location:
Temporäres Recyclinggebäude der Plattenvereinigung auf dem Gelände des Tempelhofer Feldes
Contact us:
info@plattenvereinigung.de
ARCHAIC THRILL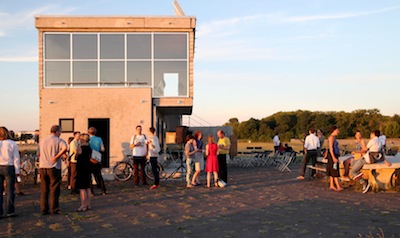 Open-Air–Science-Fiction-Soundscape-Opera die Ende August/ Anfang September 2017 fünf mal aufgeführt werden soll. Das auf dem Tempelhofer Feld platzierte Kunstwerk "Plattenvereinigung" eines einstöckigen Plattengebäudes in Kubusform von Zukunftsgeräusche GbR, der karg und futuristisch anmutende Beton-Platz davor, sowie die enorme Blickweite des Feldes sollen als Spielstätte und Bühnenbild der Klang-Oper dienen. Von einem steinernen Plateau, über den Vorplatz hinweg, blicken die Zuschauer auf die gläserne Front des Plattengebäudes. Von vier Performern live mit der Stimme produzierte Geräusche tönen immersiv aus mehreren Lautsprechern. Die nachahmenden Stimmen und Bewegungen der Performer schlagen eine sinnliche Brücke zu Objekten und Geräuschen moderner Technik, die uns im 21. Jahrhundert begleiten. Ihre Stimmen ahmen Geräusche nach, die in ihrer elektrischen Verstärkung ein vielschichtiges Soundscape entstehen lassen. Die Orts-spezifischen Geräusche wie das Grillenzirpen, das jaulende Summen der SBahn oder ein Hundebellen in der Ferne als Ausgangsmaterial werden aufgenommen und verstärkt, die Stimmen nehmen augenblicklich dazu Bezug. Die Performer setzen sich in ein lustvolles Verhältnis zu ihrer Umgebung. Der performative Umgang mit der nachahmenden Stimme ist in den Arbeiten der Klangkünstlerin Vera Buhß ein wesentlicher Bestandteil. ARCHAIC THRILL wird durch das Stimmrepertoire und den performativen Ausdruck des Sängers Thorbjörn Björnsson, des Tänzers Hermann Heisig und des Schauspielers Wieland Schönfelder erweitert.
Die vier Performer verdeutlichen die sich verändernde Atmosphäre. Das vokale Mitschwingen widmet sich der Umgebung und formt sowohl eine Komposition für die Weite als auch für den Wechsel vom Tageslicht zur Abendstimmung. Die Stimmen machen sich den Dingen und der Umgebung ähnlich. Sie schmiegen sich ihr zart an. Sie protestieren gegen die einseitige Beschallung, schallen in die Umgebung zurück und rufen in die Weite. Sie folgen den Assoziationen. Das Wahrgenommen verwandelt sich in Fiktion. So nehmen die Stimmen etwa das immerwährende Rauschen des Windes auf dem Feld auf, verstärken dieses, und verwandeln es in die tosenden Propeller von Flugzeugen, welche ehemals auf dem Feld starteten und landeten. Aus der stimmlichen Nachahmung entstehen schließlich Gesänge. Die sich daraus ergebende Opernkomposition bewegt sich im Wechselspiel zwischen Ursprung und Technologie. Gegensätze kulminieren zum ARCHAIC THRILL.
Die Stimmen und Bewegungen der Performer deuten repräsentative Objekte für das digitale Zeitalter um. Performativ nutzen sie technische Geräte, die in der heutigen Zeit die menschlichen Fähigkeiten ersetzen und erweitern, und erobern sich ihren sinnlichen Bezug zu ihrer Umgebung zurück. Die Rückkopplung von zwei Mobiltelefonen, dieses schrille, nervenaufreibende Geräusch, verwandelt sich durch stimmliche Nachahmung in ein zart liebliches Frage-Antwort-Spiel. Der Wechselsgesang setzt sich fort im Nachahmen der Töne des Abschickens und Empfangens. Es enstehen Situationen und Geschichten, die neuzeitige Kommunikationsformen ungewohnt verwenden und auf ihre Begleiterscheinungen Bezug nehmen. Das sich in sozialen Netzwerken zeigende Mitteilungsbedürfnis des modernen Menschen kann als verzweifelt empfunden werden, wenn wir befürchten, dass ihm aufgrund der Digitalisierung ein sinnlicher Bezug zu seiner Umgebung verloren geht. ARCHAIC THRILL provoziert dieses Bedenken und spielt mit der Frage, ob wir bewusst und sensibel mit gegenwärtigen Kommunikationsmitteln umgehen können. Sie gehören zu unserer Welt, welche wir nicht als leer und nur selten von Beziehungen durchzogen erleben wollen. Wir wollen uns zu den Gegenständen und Lebewesen um uns herum verhalten, auf sie Bezug nehmen, uns mit ihnen in sinnlichen Bindungen befinden. Deshalb beseelt ARCHAIC THRILL die Dinge um sich herum, indem die menschliche Stimme hinter ihren Originalklängen immer wieder hingebungsvoll auftaucht. Die Performer erobern sich ihre Umgebung zurück, indem sie sich das Technische körperlich zu eigen machen.
location:
Temporäres Recyclinggebäude der Plattenvereinigung auf dem Gelände des Tempelhofer Feldes
Contact us:
info@plattenvereinigung.de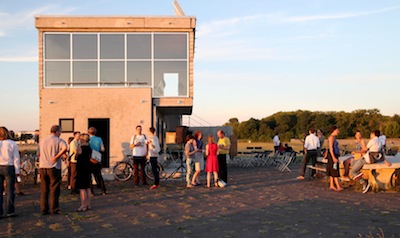 Open-air science fiction soundscape opera to be performed five times at the end of August/ beginning of September 2017. The artwork "Plattenvereinigung" of a one-storey panel building in the form of a cube placed on the Tempelhofer Feld by Zukunftsgeräusche GbR, the barren and futuristic concrete square in front of it, as well as the enormous view of the field are to serve as the venue and stage set for the soundscape opera.
From a stone plateau, across the forecourt, the spectators look down on the glass front of the record building. Sounds produced live by four performers with their voices are heard immersively from several loudspeakers. The imitative voices and movements of the performers build a sensual bridge to objects and sounds of modern technology that accompany us in the 21st century. Their voices imitate noises, which in their electrical amplification create a multi-layered soundscape. The site-specific noises, such as the chirping of crickets, the howling buzz of the S-Bahn or the barking of a dog in the distance, are recorded and amplified; the voices immediately refer to them. The performers set themselves in a joyful relationship with their surroundings.
The performative handling of the imitative voice is an essential part of the work of sound artist Vera Buhß.
ARCHAIC THRILL is expanded by the voice repertoire and the performative expression of singer Thorbjörn Björnsson, dancer Hermann Heisig and actor Wieland Schönfelder, who all illustrate the changing atmosphere. The vocal resonance is dedicated to the surroundings and forms a composition for the expanse as well as for the change from daylight to evening mood. The voices make themselves similar to the things and the environment. They nestle delicately against it. They protest against the one-sided acoustic irradiation, echo back into the surroundings and call out into the distance. They follow the associations. The perceived turns into fiction. For example, the voices record the perpetual murmur of the wind on the field, amplify it, and transform it into the thundering propellers of airplanes that once took off and landed on the field. The vocal imitation is finally transformed into songs.
The resulting opera composition moves in the interplay between origin and technology. Opposites culminate in the ARCHAIC THRILL, and the voices and movements of the performers reinterpret representative objects for the digital age. Performatively, they use technical devices that replace and expand human capabilities in today's world, and reclaim their sensual relationship to their surroundings. The feedback from two mobile phones, this shrill, nerve-racking noise, is transformed by vocal imitation into a delicately sweet question-answer game.
The alternating singing continues in the imitation of the sounds of sending and receiving. Situations and stories emerge, which use modern forms of communication in an unusual way and refer to their accompanying symptoms. Modern man's need to communicate, as manifested in social networks, can be perceived as desperate if we fear that digitalisation will cause him to lose a sensual connection to his surroundings.
ARCHAIC THRILL provokes this concern and plays with the question of whether we can consciously and sensitively deal with contemporary means of communication. They belong to our world, which we don't want to experience as empty and only rarely interspersed with relationships. We want to relate to the objects and living beings around us, to refer to them, to be in sensual bonds with them.
That is why ARCHAIC THRILL inspires the things around us, by the human voice appearing again and again devotionally behind its original sounds. The performers recapture their surroundings by physically appropriating the technical equipment.